Member: NMLRA, NRA, CLA, 1775 Lebanon Town Militia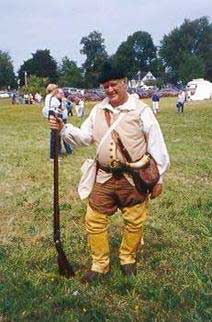 Black Hart Long Arms and my signature deer are derived, in part, from a stag (or Hart) that appears on the Parry family crest. But my real inspiration for the business name came from sighting a rare, all black and white, whitetail deer standing in a farmer's cornfield in Ledyard, Connecticut.
My first experience with a muzzleloader occurred in Hawaii in 1974, while I was a nuclear machinist mate in the Submarine Service. I purchased a ready-made Hawken and bagged a wild pig. I have been hooked on muzzleloaders and hunting with them ever since.
I built my first muzzleloader-- a copy of another Hawken--a year later, during a long submarine patrol. With an onboard machine shop, it was the perfect opportunity for me to begin my 30-year apprenticeship at becoming a master gunsmith.
The finished Hawken rifle impressed my shipmates, but I knew longrifles were far more difficult to create. I decided then to spend as many hours as necessary to create a flawless copy of my true love-the Pennsylvania rifle. Aware that my ancestors settled in New Hope, Bucks County, Pennsylvania, I gradually refined my skills and made a copy of a Buck's County rifle. Though it fell slightly short of my present standard of excellence, the copy proved to be so deadly accurate in the field, I still hunt whitetail deer in Connecticut and Maine with it fifteen years later.
My craft, love for the woods, hunting, and an infatuation with James Fennimore Cooper and Kenneth Robert's novels, evolved into a participating interest in Revolutionary War re-enactments and the period dress Rendezvous' illustrated on these pages. A founding member of The Lebanon Towne Militia (also shown on this page), we are active in battle re-enactments throughout New England.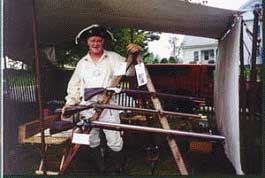 Three decades after creating that first muzzleloader on patrol, my award winning engraving, inlay, and carving skills enable me to produce copies of period pieces that meet my exacting standards of historical accuracy and artistic responsibility. Even though I have created and sold well over a hundred long arms over the years, I still take great pride in each finished piece of history. Though I sell them to you, I really make them for me.